FINALLY, after 2 weeks, i heard back from madewell and i got the job (whoo hoo!). with this, it makes me think about my wardrobe and what i will be able to wear to work. for me, it's all about being simple, being able to throw something on, add a few accessories, and be out the door. one such article of clothing that i think will accomplish this desire is a silk (or silky) shirt. pair it with skinnies and flats or a pencil skirt and heels - then you've got it made. you have a look that is put together, comfortable, and easy. with this idea in mind, i've been contemplating the notion of buying a new silk (or silky) shirt. i have two silky shirts (one in grey and the other in white) but i need one with a bit of color (my boyfriend makes fun of me because he thinks i wear too much black...). however, i can't decide if i want to save or splurge.
save or splurge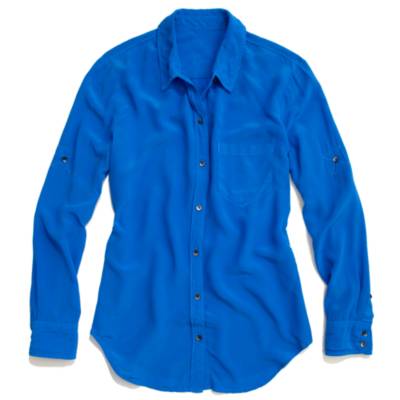 (1) (2)
i think for the time being, i will resort to "saving". i think that the real silk shirt will have to wait. because when you think of the price of real silk, you can't just think of the $110. you also have to think about dry cleaning. also, spillage. i am notorious for missing my mouth so the added concern of ruining an expensive shirt frightens me.
so maybe, mr. silk shirt, in the future, we will be friends.