this next week, I am driving to akron for a wedding which leads me to the question: what do I wear to a fall wedding? with chilly air, my summer dresses simply will not do. the search is on for the perfect fall wedding dress.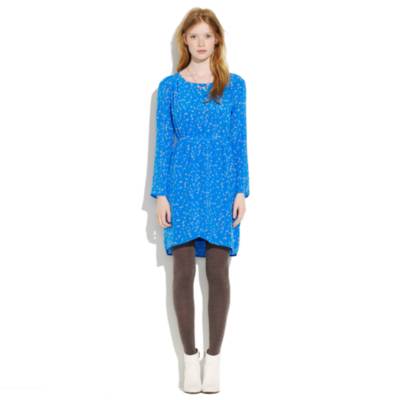 although i do not like the styling of this picture (grey tights and white booties? please no), i really love this dress. i have tried it on but my wallet was too thin that week so i did not get it. it's super flattering, not only fit wise, but color wise. this dress is a great way to brighten up a fall wedding while staying warm (notice long sleeves)
a staple in any girl's wardrobe, this dress will not only work for the wedding, but it will also work for work. pair with black tights and patent heels for work, and for play, pair with a bright fuchsia heel.
love the play on nude and sheer. super cute and feminine.
super feminine and retro with a twist. love the bold, bright color. pair with tights and mary janes.
if you haven't noticed, i'm all about red this fall. so to top it off, another red dress! love the playful and youthful vibe of this wedding. pair with nude heels.
big on my wish list of thing i've alwasy wanted is a leather sheath dress. a go-to in any women's closet, this dress DESPERATELY needs to enter my closet!